Fantabulous 2018 – An Intercollegiate College Fiesta – Win Prizes Worth 2 Lakhs
About Nehru Arts and Science College (Autonomous)
Nehru Arts and Science College has emerged from the galaxy of Nehru Group of Institutions with the dictum, "Knowledge is wisdom". The Trust headquartered at Coimbatore, Tamil Nadu, has spread its wings to the neighbouring State Kerala by establishing Educational Institutions of high reputation. The trust was constituted by Late. P. K. Das, the Founder Chairman. His legacy is being taken up by his sons Adv. Dr. P. Krishna Das as the Chairman and Managing Trustee and Dr. P. Krishnakumar as CEO and Secretary. The College is situated in a tranquil environment of sprawling 35 acres campus located in Thirumalayampalayam about 2.5 Km from NH 47 (connecting Coimbatore and Palakkad), 15 Km from Coimbatore City and 14 Km from Kerala border. Its calm, lush green, pollution free surroundings dissolved in the chill breeze makes the climate salubrious and atmosphere conducive for intact and effective learning. It is easily accessible through 60 Institution's buses plying from various parts of Coimbatore, Tirupur, Pollachi and Kerala.
NASC is affiliated to Bharathiar University, recognized by UGC with 2 (f) and 12 (B), certified with ISO 9001:2008 and ISO 14001:2004. NASC was accredited by NAAC with "B" Grade (CGPA 2.75) in 2009 and reaccredited with "A" Grade (CGPA 3.10) in 2014. The College has got Autonomous Status in July 2017. The College offers 23 UG,        10 PG, 10  M. Phil. and 09 Ph. D. Programmes. The College has been excelling consistently in producing University Ranks and the figure progressed to 265 Rank holders from the year 2006 onwards. The College aims quality education which focuses on three iconic elements like Knowledge, Skill and Behaviour. As the College envisages Moulding True Citizens, it has incorporated many healthy practices to make the academic fabric more students' friendly. Heritage in its different shades when we celebrate all the Festivals adhering the traditional belief and train the young minds in holistic way in all possible way to emerge as responsible citizen for tomorrow.
On Stage Events
SOLO DANCE :Maximum 5 minutes. No Abuse songs
SOLO SONG: Maximum 5 minutes.Karaoke has to be bring by the Participants in Pen Drive
FASHION SHOW:Maximum 8-10 participants-Based on theme-Duration:10 minutes.
GROUP DANCE:Maximum no. of participants 6 – 8 per team.Minimum 5 students.Duration: 7 minutes.Costumes included in the judgment criteria.
Mr & Ms FANTABULOUS '18:Ramp Walk (in formals).Personality Round.Talent Round (3 minutes).Question Round
Off Stage Events
FACE PAINTING:Topic will be given on the spot.Duration: 30 minutes.No Materials Provided
COOKERY COMPETITION:Two participants per team – 3 Dishes: starter, main course, desert-Duration: 1 hour 30 minutes.No materials provided
MEHANDI DESIGNING:Two participants per team.Arabian Designing-Duration: 60 minutes.No materials provided
BEST ACTOR/ ACTRESS:Only one participant is allowed-Duration: 5 minutes.Act should not exceed more than the given time
ADZAP:5 participants per team.Product to be advertised should not be available in the market.Advertising of a product manually is must.Duration:  6 minutes
QUIZ:2 participants per team.4 rounds will be conducted.Prelims round is written
PHOTOGRAPHY/COLLAGE:Duration: 15 minutes.On the spot topic, 2 Photographs-Equipments to be brought.Post production techniques not allowed.
PENCIL  SKETCH:Topics will be given on the spot.Duration: 20 minutes.Participants should bring their own materials.
FLOWER ARRANGEMENT:Maximum 2 participants per team.Duration : 45 mins.Theme : Wedding Bouquets.No Materials Provided
GENERAL RULES & REGULATIONS
Participants should bring their ID card and Bonafide letter.
Entry only for college students.
Participants should report to the venue before 09.00am.
Confirm your participation through registration via email / QR code. For registration, send your college name, participant name, course, email and phone number to nascfantabulous18@nehrucolleges.com / using QR code on or before 03.10.2018.
Minimum one faculty member should accompany the team.
Judges decision will be the final.
Prelims will be conducted from 09.30am on wards.
Strictly follow the rules of the event.
Only pen drives are allowed to bring the sing.
Lunch will be provided.
Maximum two entries permitted for each event.
Misbehavior and vulgarities will leads to disqualification.
No registration fee.
No spot registration.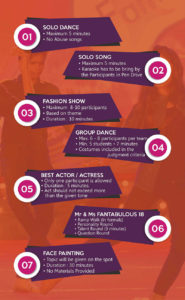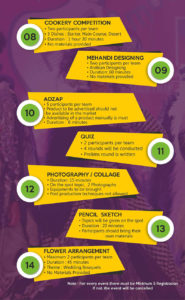 Please follow and like us: