Rapid Response Revival- Nehru College of Nursing
About the CNE
The Theme RAPID RESPONSE REVIVAL refers to the emergency or immediate care you should provide when the patient is injured or ill until the entire medical care is available. The response to act appropriately can determine the difference between the life and death
The key guiding principles and purpose behind the theme, is often given in the mnemonic "3 Ps". These three points govern all the actions undertaken by the responder.
Prevent further injury
Preserve life
Promote recovery
Aim of the CNE
The overall aim is to inculcate the participants the knowledge and skill of reviving the patients with bites, Burns and OP Poisoning through theoretical and Scenario based simulations.
Objectives of the CNE
At the end of the CNE the participant will be able to
Understand the importance of rapid action
Response to the Emergency situation
Revive the patients by administering appropriate action plan
adapts to any social or natural emergencies when it occurs
Cater the knowledge to the peer group as it requires.
Target Audience
UG and PG nursing students
Staff Nurses
Nursing professionals
Paramedics
TIME
TOPIC
Scenario based simulations
RESOURCE PERSON
09.00AM – 09.30 AM
REGISTRATION
09.30AM – 10.00 AM
INAUGURATION
10.00AM – 11.00AM
REVIVAL OF PATIENTS WITH BITES
Role Play of Patients With Bites            (Practical Input)
Dr. Alawi K.P ., M.D( General Medicine)

Professor & Unit Chief

PK DAS Institute of medical Sciences. Palakkad

11.00AM – 11.15AM
REFRESHMENT
NURSES RESPONSE TO PATIENTS WITH BITES
Theoretical Input
Mrs. Delna P Davis RN RM, MSN

Asst. Professor. Dept. of Obestrical Nursing

Nehru College of nursing Palakkad.

12.00NOON – 01.00PM
REVIVAL OF PATIENTS WITH BURNS
Clinical Scenario of Do's and Don'ts on Patients with Burns  (Practical Input)
Dr. Mohammed sajid

Deputy Medical superintendent

Professor and Head of The Surgery

PK DAS Institute of medical Sciences. Palakkad

01.00PM – 02.00PM
LUNCH BREAK
02.00PM – 02.30PM
NURSES REPONSE TO PATIENTS WITH BURNS
Theoretical Input
Mr. Shahul Hameed RN, RM MSN MSc(Psychology) EMT-P(UK)

Asst Professor, Medical Surgical Nursing

Certified ACLS, BLS, ATLS Provider.

Nehru College of nursing Palakkad

02.30PM -03.00PM
REVIVAL OF PATIENTS WITH ORGANO PHOSPHORUS POISONING
Theoretical Input
DrKarthik MBBS

Dept of emergency Medicine

Certified ACLS, BLS, ATLS, PALS Provider

PK DAS Institute of medical Sciences. Palakkad

03.00PM – -3.30PM
NURSES REPONSE TO ORGANO PHOSPHORUS                 POISONING
Theoretical Input
Mrs. Salikutty RN.,RM., MSN

Deputy Nursing Superintendent

PK DAS Institute of medical Sciences. Palakkad

3:30-4 .00PM
POSTER AND PAPER PRESENATATION
4- 4.15 PM
REFRESHMENT
4.15-4.45 PM
VALEDICATORY FUNCTION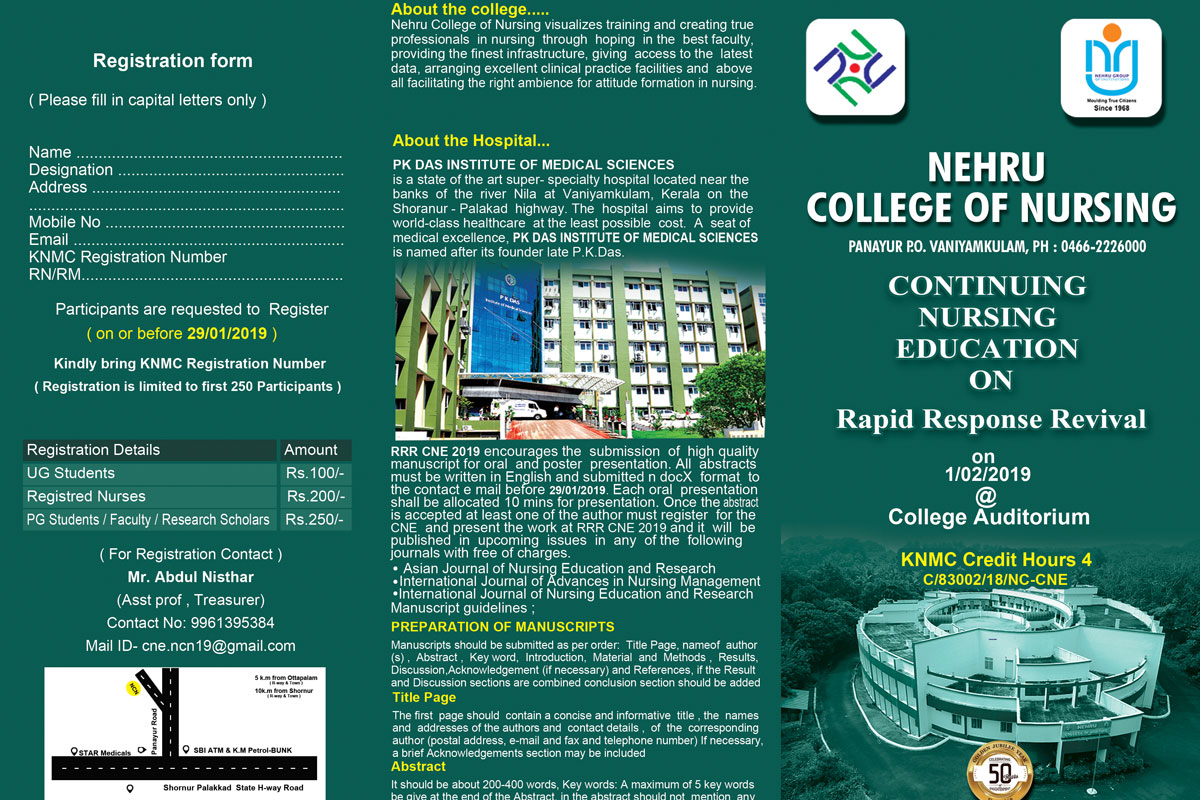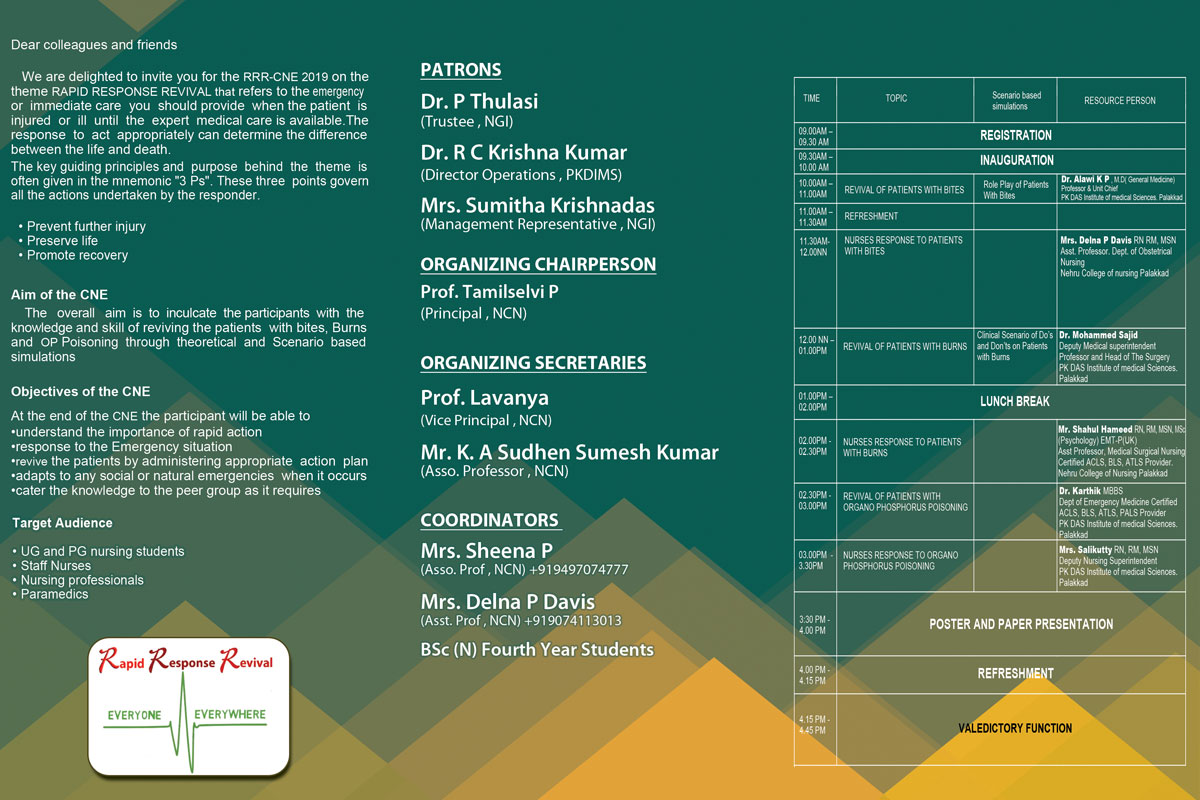 Please follow and like us: